Our Services
Valve Actuation Services
Metropolitan Pipe stocks a large selection of actuator-ready valves, solenoids, petitioners, limit switches and mounting kits. Our on-site, experienced valve actuation department handles the entire process of assembly, calibration, and testing.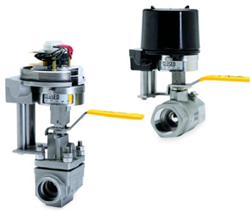 Greater Productivity
The use of actuated valves allows for greater productivity.
---
Safety & Convenience
Actuated valves provide greater safety, along with convenience for hard to access valves such as those underground or overhead and valves in hazardous environments.
---
Precision
Valve timing can make or break your system. By adding actuation, you gain precision timing for critical or automated systems.
---
More Information
To learn more about our on-site valve actuation services, please contact a Metropolitan Pipe representative by clicking here.
---